The MicroBioGen Advantage
MicroBioGen's unique platform technology, developed over 20+ years, enables us to incorporate multiple desired traits into a single yeast strain, without sacrificing its robustness or industrial utility. Our technological advantage has already been proven by Novozymes in a significant proportion of ethanol plants throughout North America.
While we continue to provide and improve superior yeast strains for the biofuels industry, our technology is highly adaptable and extends far beyond ethanol production. We have developed yeast strains that are ideal for human applications such as baking and baking ingredients. Our advanced technology, genetics expertise and collaborative spirit can also be brought into other industry partnerships to produce cutting-edge enzymes, biochemicals, pharmaceuticals, nutraceuticals, animal feed, wine and beer amongst others. Through our unique ability to combine non-GM and GM approaches, we are continually improving the genetic profiles of yeast, thereby providing our partners and customers with absolute flexibility and an ongoing competitive and sustainable advantage.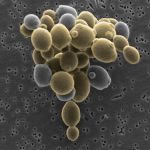 Gene shuffling and evolution
(a non-GM approach)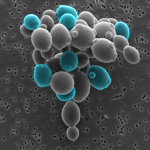 Genetic modification
(a GM approach)
The power of evolution (Our non-GM approach)
To develop superior yeast biocatalysts, our scientists took a different long-term path than most of our competitors. We have developed proprietary technologies that accelerate evolution and the gene shuffling required to produce superior yeast phenotypes. Our unique, non-GM approach to long-term genetic development has enabled us to create yeast strains with superior genetics compared to other commercially available strains. Improvements include temperature and ethanol tolerance, organic acid resistance, faster fermentation, lower glycerol production, growth on non-sugars, nitrogen efficiency, protein levels, and enzyme expression amongst many others.
Genetic modification (Our GM approach)
Our dedicated scientists at MicroBioGen are not only skilled in the art of guided evolution. We can also use genetic engineering approaches to insert carefully selected and safe desired genes into our robust, evolved yeast biocatalysts. This provides our partners and customers with the extremely valuable option of having a new, well characterised gene – with a specific function – inserted into a yeast strain with a robust genetic background. If you consider how flexible this feature makes our yeast strains compared to any commercially available strains, the possibilities are endless.
At MicroBioGen, we can combine GM and non-GM for almost infinite opportunities
Do you have one or more specific genetic requirements that only your company can engineer? Are you unable to incorporate your unique genetic constructs into commercially available yeast strains without sacrificing performance?
Our highly skilled, experienced scientists here at MicroBioGen can reintroduce general industrial robustness into your strains while optimising your GM construct's performance. This unique collaborative option ensures that you can have the best of both worlds, combining the adaptive power of evolution with the specificity of genetic engineering.
Contact us today for a confidential discussion and see how it really is possible to build your ideal yeast biocatalyst.