MicroBioGen has a new look!
We are excited to reveal the brand new MicroBioGen logo and website.
Our new, updated logo depicts a modified infinity symbol casting a shadow in the shape of a budding yeast. These elements were carefully crafted to represent several different aspects of MicroBioGen: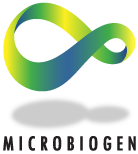 1.) Our ever-evolving yeast has been proven to produce renewable bioethanol more efficiently than the industry has ever seen before, supporting our quest for sustainability.
2.) Although MicroBioGen yeast has already proven itself in the bioethanol industry, we ensure that our customers retain their competitive advantage within each unique market segment through the continued improvement of all our yeast strains.
3.) With our proprietary yeast development platform technology, the opportunities in how yeast strains can be tailored to suit specific industrial needs are almost limitless.
4.) Finally, as suggested by the budding yeast cell shadow, our ongoing commitment to the skilful (and artful) development and improvement of industrially relevant yeast strains is at the heart of our business and underpins everything we do.
To compliment our new logo, we have also redesigned and updated our website at www.microbiogen.com. We hope you enjoy finding out more about our technology, success stories and exciting new projects open for collaboration.
Best wishes for 2021 and happy viewing.
Sincerely
Geoff Bell
MicroBioGen CEO